#093 – Kyle Hanslovan & Chris Bisnett: Crimeware Is a Business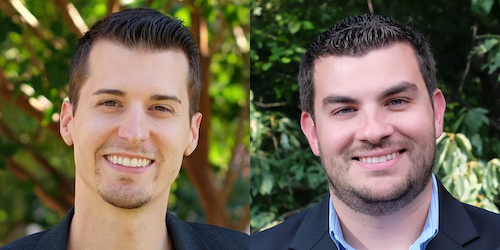 Kyle Hanslovan comes to Huntress Labs from the U.S. Intelligence Community, where he supported defensive and offensive cyber operations for the past decade. He previously co-founded the defense consulting firm StrategicIO and actively participates in the ethical hacking community as a Black Hat conference trainer, STEM mentor, and Def Con CTF champion. Additionally, he serves in the Maryland Air National Guard as a Cyber Warfare Operator.
Chris Bisnett is a veteran information security researcher with more than a decade of experience in offensive and defensive cyber operations. While serving with the NSA RedTeam, he attacked government networks and systems to identify and remedy vulnerabilities. Chris is also a recognized Black Hat conference trainer and has taught his "Fuzzing For Vulnerabilities" course at several events around the world. Before founding Huntress Labs, Chris co-founded LegalConfirm, LLC, where he led product design and development until the company was acquired in 2014.
In this episode, we discuss incident response planning, their early starts in offensive theaters, red teaming, Ransomware-as-a-Service, small business and enterprise threats, breaking bad news to clients, holding leadership accountable, hacking back, tips and resources for start-ups, warnings for founders, and so much more.
(Note: If you are interested in start-ups and being a founder, Daniel Ayala and I created a regularly updated blog for founders and start-ups: Hang Out A Shingle – Starting Your Cybersecurity Company.
Where you can find Kyle and Chris: