#076 – Lesley Carhart: You've Got to Play the Game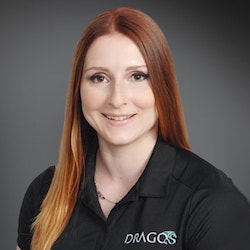 Lesley Carhart is a Principal Threat Analyst at the Threat Operations Center at Dragos. She is recognized as a subject matter expert in cybersecurity, incident response, and digital forensics, regularly speaking at conferences and universities. She has spent the last 11 years of her 20+ year IT career specializing in information security, with a heavy focus on response to nation-state adversary attacks. Prior to Dragos, she was the incident response team lead at Motorola Solutions, performing digital forensics and incident handling services for both enterprise and public safety customers.
In 2017, Lesley was named a "Top Woman in Cybersecurity" by Cyberscoop news and received the Guidance Enfuse conference "Women in Technology" award. She holds a Bachelor's Degree in Network Technologies from DePaul University, A.A.S. in Avionics Systems and Electronics Systems, GIAC GCIH, GREM, GCFA, and GCFE certifications, and currently serves as a Cyber Systems NCO in the US Air Force Reserves.
In her free time, Lesley co-organizes resume and interview clinics at several cybersecurity conferences, blogs, and tweets prolifically about infosec, and is a youth martial arts instructor.
In this episode, we discuss her early mentors, mentoring, writing resumes, starting as a coder, organizational missions, ICS security, electronic voting, submitting CFPs, and so much more.
Where you can find Lesley: