#063 – Dean Sysman: You Are Swamped With Data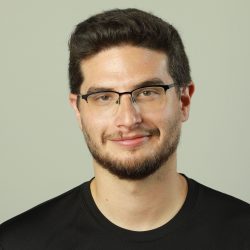 Dean Sysman, is the CEO and co-founder, Axonius. Dean is a world renowned expert in cybersecurity and has been honored with being in the Forbes 30 Under 30 Israel 2017 list. Before founding Axonius, Dean co-founded Cymmetria, A YC-backed cyber deception company with Fortune 500 customers. He has spoken at major conferences including Blackhat, Defcon, CCC and more. He is an alumnus of an elite unit in the Israeli Intelligence Corps, where he served for 5 years as a team leader and officer.
Dean is a graduate of the special "Etgar" program, where he earned his B.Sc in computer science at the age of 19. In 2005, Dean was part of the gold medal winning team in the international Robotic Olympics in South Korea. Dean enjoys playing poker and reading existential philosophy.
In this episode we discuss, his start in infosec in Israel, being a founder, measuring security effectiveness, cyber security fundamentals, hiring the right people, participating in the community, and so much more.
Where you can find Dean: