#064 – Georgia Weidman: Cyber Security Lion Repellent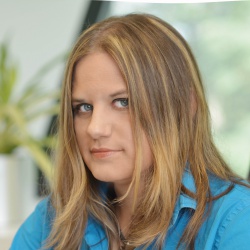 Georgia Weidman is the founder and CTO of Shevirah and is a serial entrepreneur, penetration tester, security researcher, speaker, trainer, author, and angel investor. She holds a MS in computer science as well as holding CISSP, CEH, and OSCP certifications.
Her work in the field of smartphone exploitation has been featured internationally in print and on television including ABC World News Tonight, The New York Times, NBC Nightly News, and The Washington Post. She has presented or conducted training around the world including venues such as the NSA, West Point, and Black Hat. She was awarded a DARPA Cyber Fast Track grant for her work in mobile device security culminating in the release of the open source project, the Smartphone Pentest Framework (SPF). She is the author of Penetration Testing: A Hands-On Introduction to Hacking and the recipient of the 2015 Women's Society of CyberJutsu Pentest Ninja award.
In this episode we discuss, her early red team days, where to get direction when starting in the industry, pen testing steps, founding a start-up, mobile device security, cybersecurity lion repellent, and so much more.
Where you an find Georgia: