#042 – Jared Coseglia: Those Numbers Are Real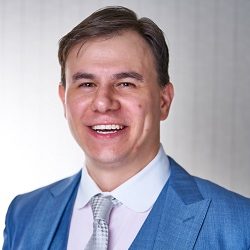 Jared Michael Coseglia, founder and CEO of TRU Staffing Partners, has over fourteen years of experience representing talent in e-discovery and cybersecurity. He has successfully placed over 2500 professionals in full-time and temporary positions at the Fortune 1000, AmLaw 200, Cyber 500, Big Four, and throughout the ESI and cyber consultancy, service provider and software community.
His ability to identify, deliver, mentor, and help retain talent has given him the privilege of quickly becoming the globally recognized "go-to" individual for clients and candidates in need of staffing solutions or career guidance and management in cybersecurity. Jared's unique style of representation, vast network of relationships, and subject matter expertise has helped earn him and TRU a host of awards including ranking on the Inc. 5000 Fastest Growing Private Companies in America two years in a row. Jared was awarded Best Reviewed e-Discovery Session at Enfuse 2017 for his lecture and Q&A on "Transitioning Your Career from ESI to Cybersecurity."
In this episode we discuss the commonalities between the eDiscovery a decade ago and the cyber security now, the cyber security talent gap and the numbers we hear, how to hire quality information security professionals, the drain on the federal talent pool, when to get kids involved in cyber security, security training, and so much more.
Where you can find Jared: