#041 – Andrew Hay: Creative Solutions to Hard Problems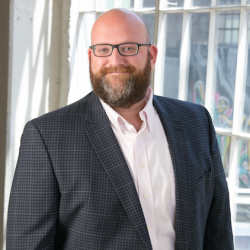 Andrew Hay is an information security industry veteran with close to 20 years of experience as a security practitioner, industry analyst, and executive. As the Co-Founder & Chief Technology Officer (CTO) for LEO Cyber Security, he is a member of the senior executive leadership team responsible for the creation and driving of the strategic vision for the company.
Prior to LEO, Andrew served as the Chief Information Security Officer (CISO) at DataGravity, Inc., where he advocated for the company's total information security needs and is responsible for the development and delivery of the company's comprehensive information security strategy. Before that, he served as the Director of Research at OpenDNS where he led the research efforts for the company. Prior to joining OpenDNS he was the Director of Applied Security Research and Chief Evangelist at CloudPassage, Inc.
In this episode we discuss his start in dial-up text support, the role of the CISO, security in a start-up, the landscape of security solutions, managing his speaking engagements, speaking as edu-tainment, cloud forensics, and so much more.