#109 – Amanda Berlin: Happier People Stay Longer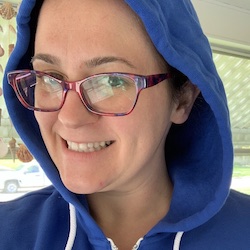 Amanda Berlin is the Lead Incident Detection Engineer for Blumira and the CEO and owner of the nonprofit corporation Mental Health Hackers. She is the author of a Blue Team best practices book called "Defensive Security Handbook: Best Practices for Securing Infrastructure" with Lee Brotherston through O'Reilly Media. She is a co-host on the Brakeing Down Security podcast and writes for several blogs.
Amanda is an avid volunteer and mental health advocate. She has presented at a large number of conventions, meetings, and industry events such as DerbyCon, O'Reilly Security, GrrCon, and DEFCON.
In this episode, we discuss her start in help desk, speaking amount mental health, depression and anxiety, men's reluctance to report health issues, neurodiversity, how organizations can encourage self-care, using medication, the Mental Health Hackers organization, and so much more.
Where you can find Amanda:
Episode Disclaimer:
This podcast's information is not intended or implied as a substitute for professional medical advice, diagnosis, or treatment.
We make no representation and assume no responsibility for the accuracy of the information contained in or available through this presentation. THIS IS NOT MEDICAL ADVICE. Please speak to your physician before embarking on any treatment plan.
NEVER DISREGARD PROFESSIONAL MEDICAL ADVICE OR DELAY SEEKING MEDICAL TREATMENT BECAUSE OF SOMETHING YOU HEARD ON THIS PODCAST.