#098 – Andrea Roberson: Reach Out to Others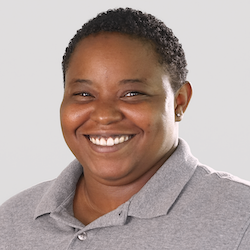 Andrea Roberson is a product manager at Centrify Corporation, where she directs the product roadmap for Centrify Privileged Access Service. She was previously a technical support engineer at the company for almost two years and has held several engineering and support roles during her career including at Google and Apple.
She has a Bachelor of Science degree in Computer Science from Spelman College, where she was a member of the National Society of Black Engineers, the Association for Computing Machinery, and SpelBots.
In this episode, we discuss working with product teams remotely, moving from IT to information security, securing remote access, diversity and inclusion in cybersecurity, mentoring others, self-care and mental health, new threats due to COVID, and so much more.
Where you can find Andrea: