#065 – Lizzie Cookson: Attackers Adapt With Us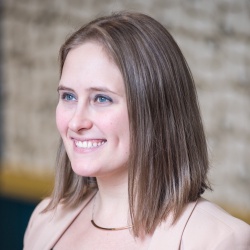 Lizzie Cookson is an Associate Director of Cyber Investigations at Kivu Consulting. She specializes in cyber extortion and threat intelligence with a focus on attacker negotiations, threat actor profiling, and data breach remediation. Lizzie's case work has included network intrusions, e-commerce compromise, business email compromise, wire/tax fraud, employee misconduct, and over 150 cyber extortion investigations.
Lizzie has over six years' experience in legal services, incident response, and digital forensics. Prior to joining Kivu, she worked in regulatory roles at law firms in Massachusetts and Washington, DC while earning her graduate degree in digital forensics.
In this episode we discuss getting started in information security, how attackers have changed, ransomware changes, Ransomware-as-a-Service, banking trojans, types of cyber criminals, getting started with ransomware response, and so much more.
Where you can find Lizzie: