#101 – Brandon Hoffman: Align Security To Business Outcomes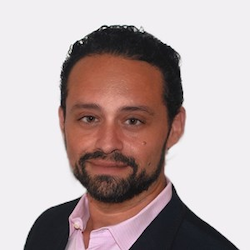 Brandon Hoffman is the CISO & Head of Security Strategy at Netenrich. Brandon is an admired security executive responsible for Netenrich's technical sales and security strategy for both the company and its customers. Most recently, he oversaw solution architecture for Intel 471's dark web threat intelligence business.
As former CTO at Lumeta Corporation and RedSeal Networks, Brandon led technical and field development in network security, vulnerability, and risk. He's also held key practitioner roles focused in security architecture, penetration testing, networking, and data center operations. Brandon holds an MS degree from Northwestern University and a BS degree from the University of Illinois at Chicago.
In this episode, we discuss adapting to COVID, accidentally getting into security, designing the intelligent SOC, a risk-based approach to information security, measuring cybersecurity outcomes, cyber insurance, risk management frameworks, and so much more!
Where you can find Brandon: