#025 – Robb Reck & Alex Wood: We Need To Understand the Technology We are Securing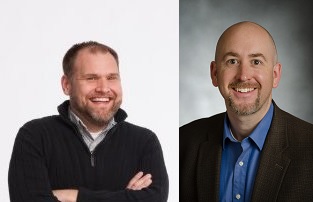 Rob Reck and Alex Wood are both seasoned security professionals in the Denver, CO area and hosts of their own podcast, Colorado = Security.
Rob is the Chief Information Security Officer at Ping Identity. In addition to his job at Ping Identity, Robb is an active member of the Colorado security community. In early 2017 he co-founded the Colorado = Security podcast with Alex. Robb serves on the board for the mountain region's largest security conference, Rocky Mountain Information Security Conference and he recently ended his term as President of ISSA Denver, the largest ISSA chapter in the world.
Alex is the Chief Information Security Officer for Pulte Financial Services and has over 18 years of experience in information security. Previously he has had managerial, program, and technical roles at several major companies in different verticals. Additionally, Alex has served on the Board of Directors for ISSA International and is a host of the Colorado = Security podcast. Alex is a CISSP and has a MAS in Information Security from the University of Denver.
In this episode we discuss volunteering in the cyber security community, the local Denver security community, security leadership, recruiting outside of traditional, the importance of IR planning, selling security within an organization, and so more.
Where you can find Rob:
Where you can find Alex: