#015 – Cris Thomas (aka Space Rogue): This Isn't a New Problem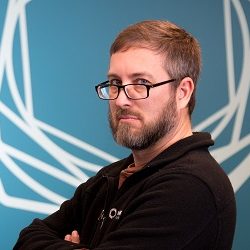 Cris Thomas (aka Space Rogue) is a strategist for Tenable. With more than two decades of experience, he commands an uncanny ability to link disparate events, read between the lines and distill complex, technical information into readily understandable, accessible and actionable intelligence.
Cris is a founding member of L0pht Heavy Industries, a hacker think tank from the late '90s and has testified before the U.S. Senate Committee on Homeland Security and Governmental Affairs. He has also been interviewed for his security expertise by media organizations such as Wired, MSNBC, CNBC and even MTV. Before joining Tenable, he created the Hacker News Network and produced the SpiderLabs Radio weekly news podcast. As a strategist for Tenable, Cris helps clients understand how to apply the unique advantages of continuous monitoring as well as how to meet compliance and security challenges.
I have been following Space Rogue's work since the 90's and am delighted to have him on the show. I encourage people to go back and watch the famous testimony from Cris and the rest of L0pht from almost 20 years ago. It's scary that so many of the issues called out then, still exist today.
In this episode we discuss CyberSquirrel1, FUD and cyber war, the growth of the RSA conference, the start of L0pht heavy industries, L0pht's famous testimony before congress, security basics, and much more.
Where you can find Cris:
Plus, everyone should just watch this. It's almost 20 years old and it still is very relevant.