#011 – Scott Schober: What Makes It Work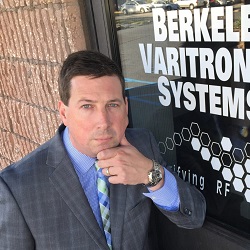 Scott Schober is the President and CEO of Berkeley Varitronics Systems (BVS), a 44 year-old company and leading provider of advanced, world-class wireless test and security solutions. Scott starting with BVS in 1989 and the company's product line of wireless test and security instruments has increased to over 100 products with a core focus on Wi-Fi, Cellular, WiMAX, LTE, IoT as well as other advanced radio devices. As an experienced software engineer, Scott has developed cellular test instruments used for measuring, optimizing and plotting signal coverage, primarily for the initial cellular build-out throughout the United States. Scott's recent focus has been development of BVS' cell phone detection tools, used to enforce a "no cell phone policy" in various markets including government, corporate, military, educational, correctional and law enforcement. Thousands of these security tools have been deployed throughout every state in the U.S. and around the world.
Scott is a highly sought after subject expert on the topic of cyber security and wireless technology for media appearances and commentary. He is often seen on ABC News, Bloomberg TV, Al Jazeera America, CBS This Morning News, CCTV America, CNBC, CNN, Fox Business, Fox News, Good Morning America, Inside Edition, MSNBC and many more. His precautionary advice is heard on dozens of radio stations such as National Public Radio, Sirius XM Radio, Bloomberg Radio, and The Peggy Smedley Show. He regularly presents on visionary issues at conferences around the globe discussing wireless technology and its role in the current cyber security breaches along with his vision for best practices to stay safe in the future. Scott has been interviewed in WSJ, Forbes, Fortune, Success, NY Daily News, Newsweek, USA Today, and The New York Times.
In his latest book, Hacked Again, Scott explores the ins and outs of his experience when his own small business was hacked. Several times. In this eye opening book, he details mayhem and tries understand the motives behind his being hacked.
In this interview we will discuss his experience being hacked, the importance of layer security, how to improve IoT security, drone security, common themes in big breaches, cyber security education, finding your niche, and much more.
I hope you enjoy this discussion. Please leave your comments below!
Where you can find Scott: