#054 – Brian Vecci: Understanding the Value of What We Have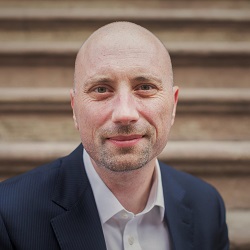 Brian Vecci is the Technical Evangelist at Varonis where he supports a wide range of security initiatives by helping Varonis' customers and employees get the most out of the company's products to tackle today's biggest security challenges.
In his 20-year technical career, Brian served as a developer, tech architect, engineer and product manager for companies in financial services, legal, and cybersecurity. Brian joined Varonis in 2010 as director of education and development. Before joining Varonis, Brian worked on systems architecture at UBS. He holds a CISSP certification and frequently presents on topics related to security and technology. He has been quoted in news sources ranging from The Financial Times to Dark Reading and has made multiple appearances on CNBC.
In this episode we discuss his start on help desk and his move to developer, his current role as evangelist, using the word cyber, information governance and the value of data, GDPR, the future of data privacy, and so much more.
Where you can find Brian: